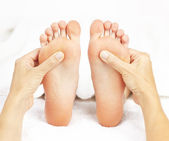 Reflexology is an holistic treatment that works on the feet/hands to balance the whole body. As a treatment in its own right reflexology is still quite new. Its development into the treatments we are doing today began at the turn of the twentieth century when Dr William Fitzgerald, an American ear, nose and throat specialist developed zone therapy. He discovered that applying pressure to parts of the body could give pain relief elsewhere and from this he mapped out body zones. Each zone linked to organs and the energy that flowed between them.
Eunice Ingham, a physiotherapist, used this background to produce a foot chart pinpointing the body systems and organs. A student of Ingham's, Doreen Bailey brought these ideas to England in the 1960's.
This is a wonderful relaxing treatment to receive and its benefits go far beyond the feet or hands. Reflexology works on all levels to help the body heal and balance itself. The treatment starts to eliminate toxins and impurities helping to clear the mind and body. A deeply relaxed state is created in which the body starts to initiate changes which need to occur for healing to take place.
FOOT: Relaxing foot treatment to calm and then correctly energise your whole body. The treatment ends with soothing leg massage.
£40 for an hour
Heated Aromatherapy Oils can be chosen and blended as an extra to enhance this treatment.
£5 extra
HAND: Relaxing hand treatment. Suitable for people with busy hands or joint problems. The treatment is the same as for foot with the choice of oils as an option.
£35 for an hour
WEBSITE SPECIAL AYURVEDIC REFLEXOLOGY: This is pure pampering for tired feet or hands. After a floral water bath for feet or hands, reflexology treatment is performed. This is followed by warm Indian Ayurvedic oils massaged into the skin. Your findings will be revealed and life style options discussed. You will then receive a lovely herbal tea of your choice.
£45 for an hour and a half
VERTICAL: Reflexology of the feet performed whilst standing up; for clients who have specific problems. This can also be added onto any treatments.
£ on request